Main content starts here, tab to start navigating
Chef Victor Searcy Jr "Chef Vick"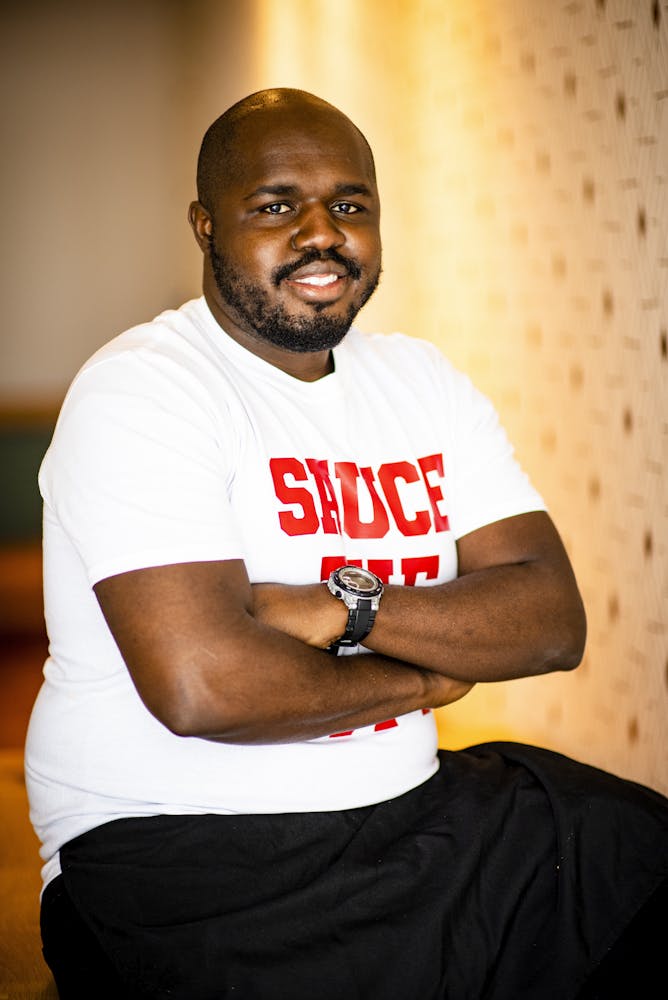 As a sophomore at Kent State University, Victor began his culinary journey working in Darden Restaurants, gaining experience and expertise. At Kent State University, he established his Signature Line of Sauces. Victor quickly gained popularity within the community by displaying his sauces at local fairs, festivals, and expos. Victor earned a placement with Amazon and numerous local markets with his sauces. In completing Kent State, Victor continued to expand his efforts to distribute his Signature Line of Sauces. Victor was chosen as one of the anchor Chefs in Cleveland's first-ever Food Hall (Ohio City Galley).
Sauce The City is Victor's breakout concept within the Food Hall, touting Cleveland's very own Hot Chicken Sandwich (The Cleveland Hot Chicken Sandwich). Victor created numerous chicken sandwiches and dishes that all consisted of his signature line of sauces. Clevelanders rapidly made "Sauce The City" one of Cleveland's Top destination restaurants. Since Victor has catered and partnered with numerous notable Cleveland and national corporations, including (Aramark, Metro Health, Cleveland Clinic, Cleveland Browns, Fox 8, WKYC, WZAK, Columbia Records, Sony Records, Cleveland Cavaliers, Eat Local, Rainbow Children's Hospital, etc.) Sauce The City has also been named Best of Cleveland, and The Cleveland Hot Chicken Sandwich is officially Cleveland's number 1 chicken sandwich.
Community Focused
Sauce The City has now branched off from its original home with Ohio City Galley and has established its own Unique food hall experience. Victor is opening up similar opportunities for up-and-coming entrepreneurs and chefs to jump-start their careers. Victor emphasizes local economics and community efforts to expand his corporation by hiring and working with local farms and vendors within a 12-mile radius. Victor hopes to expand to more communities with The Sauce The City's concept and continue to provide Cleveland and surrounding areas with the best culinary experience possible.
Sauce The City Cleveland! - Chef Vick